Status of Lake Taal Fisheries Amid Volcanic Threat and Covid 19 Pandemic : A Preliminary Study
Keywords:
fisherfolk, production, stock assessment, Taal Volcano, COVID-19
Abstract
The status of fishery resources of Lake Taal – the third largest lake in the Philippines was assessed to provide updated information on the capture fisheries following the Taal Volcano eruption and COVID-19 pandemic in 2020. Using the methodology of the National Stock Assessment Program of NFRDI, this study was conducted from January to December 2021 at 15 fish landing sites around the lake. In addition, interview schedules of 100 fisherfolk respondents from 11 coastal municipalities were also conducted to assess the effect of the volcanic eruption and pandemic on the livelihood of fisherfolk. Annual capture fisheries production was estimated at 1,004.14 MT. About 47% percent of these comprised the endangered freshwater sardine Sardinella tawilis while 31% are introduced species, and 22% migratory and/or native species. Current fisheries inventory showed that the number of fishers, fishing gears and fishing boats increased compared to 2018 inventory. The increased number of fisherfolk showed that more residents became dependent on the fishery resources of the lake. In the aftermath of volcanic eruption, reported impacts include reduction of fishing activity due to damaged gear and boat, fear of open water fishing, and reduction in demand for fish due to "unsafe" claims. Though many boats and gear were damaged in the 2020 volcanic eruption, passive or stationary fishing gears such as fish traps and fish corrals noticeably increased. During the peak of the community quarantine due to COVID-19, movement of fisheries products were hindered which led to the disruption of supply chain, and reduction of fishing activities due to lesser demand. Though there were times when fishing activities were halted due to recurring volcanic threat and pandemic, sustaining food and livelihood are what drive the local fisherfolk to learn to live and adjust adaptively to the current situation.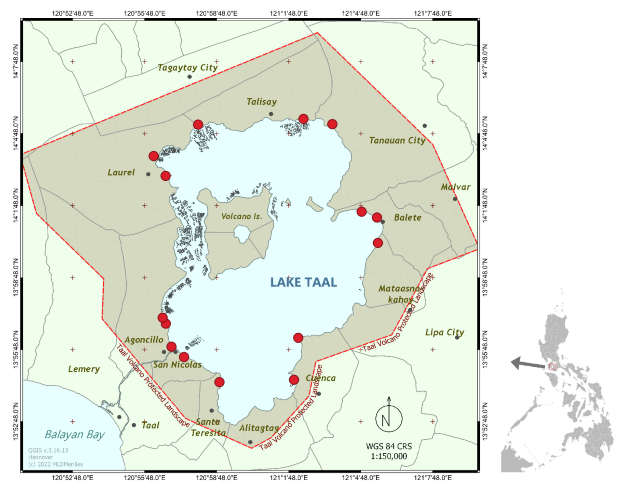 Downloads
License
Copyright (c) 2022 Indonesian Journal of Limnology
This work is licensed under a Creative Commons Attribution 4.0 International License.